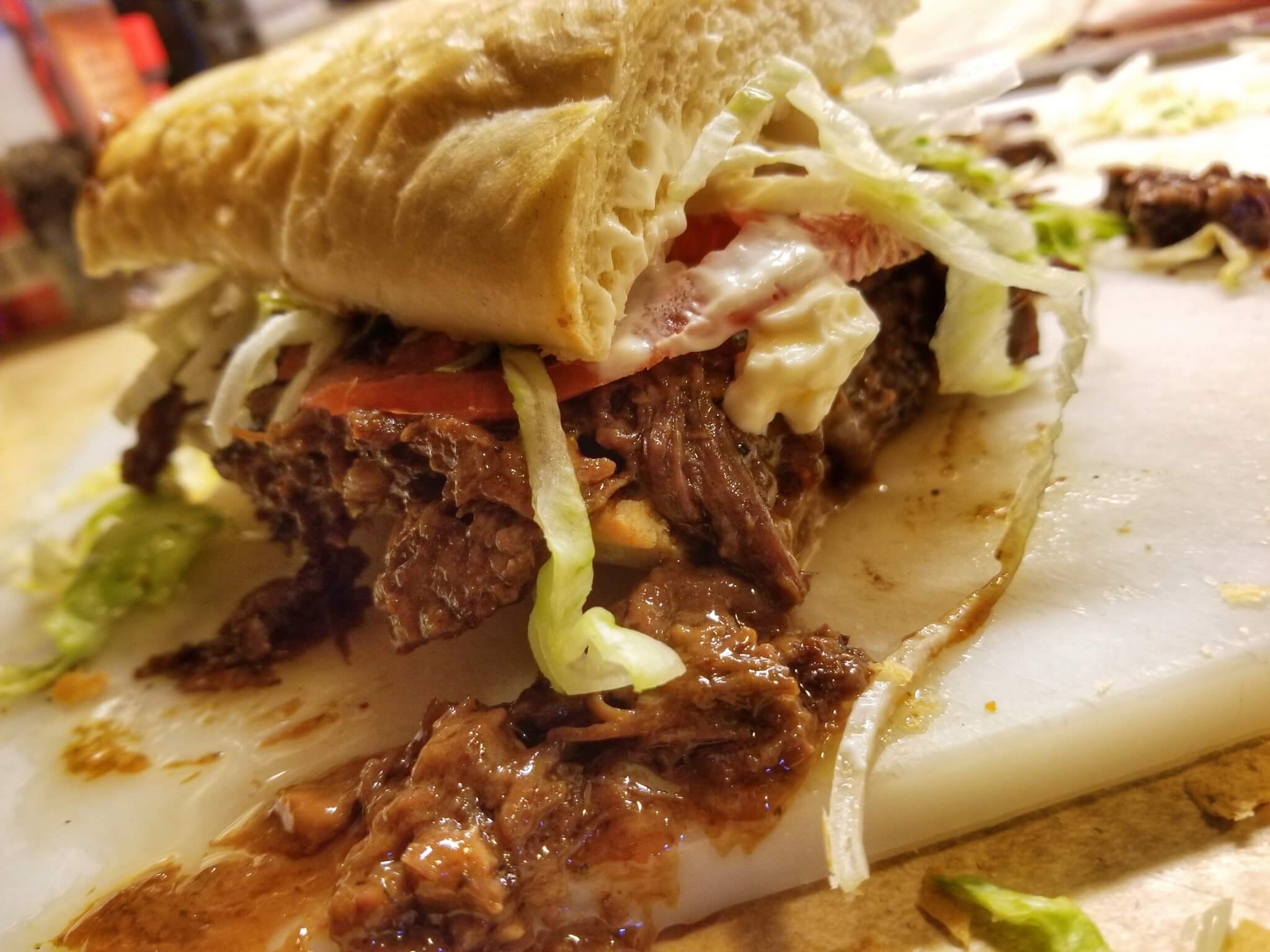 You'll want to wait for Wednesday – always wait for Wednesday. Why? Roast Beef Wednesday at Battle's Wharf Market in Point Clear. It's on Old Hwy 98 in Point Clear just north of the Grand Hotel. It's one of those old gas stations that doesn't sell gas anymore. They've become a C Store selling beer, ice, and cola and they've got a little kitchen in the back where they cook up some magical lunchtime fare. Any day of the week you'll find the locals picking up essentials (and lunch) – a whole lot of painting and landscape crews, as well as some better dressed locals and an occasional guest at the Grand Hotel who's been clued in to the secret.
They've got a tie-in to
Buck's Diner
in downtown Fairhope, and I think they share some of the lunch fare prep work.
On Wednesdays they make a New Orleans style Roast Beef PoBoy that is out of this world. The roast beef is cooked overnight and served on real poboy french bread – it's just the right balance of crusty and soft, while soaking up plenty of juicy goodness. They throw a little bit of everything in with the roast beef (onions, peppers, who knows what) and cook it all together so that it turns into what the folks in New Orleans call debris. It's juicy and messy, topped with lettuce and tomato and a bit of mayo. It's one hundred percent delicious. I don't really even like roast beef sandwiches, but their recipe is top notch and it's worth waiting for.
And you will have to wait – it's only available on Wednesday and when they're out of the roast beef debris, they're out, so you may want to call ahead to place your order. They usually run out about noon or 12:30. See you next Wednesday!