Letter (Email, Really) To a First Time Buyer
Hello - I know that when you're buying your first home, the process can be intimidating and I'm happy to help!
The two components that go into buying a home are sorting out how you're going to pay for it, and then finding and buying the right home.
For most people, figuring out how you will pay for it entails working with a mortgage broker to look at your income and expenses to figure out how much money you can spend on a home, and making sure that you will be able to get a mortgage loan that will allow you to buy the house you pick out. This process is generally known as prequalification, because you're getting qualified for the loan before making an offer on a house.
Sellers want to know that a buyer is likely to be able to get a loan to buy their house before they will accept an offer, because once the offer is accepted, the house is off the market while the home is appraised (to ensure that it's worth the purchase price - mortgage companies require this) and inspected (to make sure that there aren't any hidden surprises).
Getting prequalified for a mortgage loan generally requires some verification of employment, income, and assets, then the lender issues a "letter of prequalification" that your agent sends along with an offer you submit to buy a house so that the seller knows hat you're a serious buyer who can afford to buy the property. Right now, it seems that most people are finding out from their mortgage broker that they can actually afford to buy a more expensive house than they thought, because interest rates are low, so monthly payments are lower for the same size loan than they would be if interest rates were higher.
I asked a mortgage broker to put together a one pager showing what financing on this house might look like and you can take a look at that
here
. I'm happy to recommend a mortgage broker that my customers have had success working with if you'd like.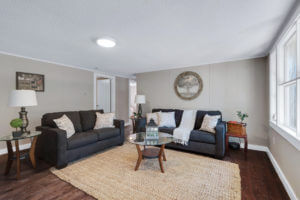 Once you've figured out how much you can pay and you have a good idea what you can afford, then it's time to start looking at houses, but everyone starts out looking at houses, so no worries!
We are excited to be able to offer entry level homes in our community and will have several similarly priced homes for sale in the coming months. This home is priced at market, based on location. This house is a mile and a half from downtown located between Section Street and Greeno Road. We expect to see property values appreciate significantly over time.
I'm happy to give you a tour of the home whenever you'd like to see it. When we do I'll walk you through the buying process in more detail and help you get started if you'd like. Just let me know when you'd like to meet up to see the house.
Many thanks,
Sue and Dave
What $150,000 buys in Baldwin County